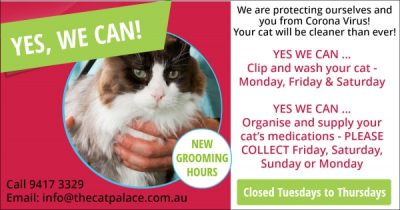 Dr Kim is being informed on a regular basis about current risks of cat ownership in the COVID-19 pandemic.
In a nutshell: KEEP YOUR CAT – it is better to be SANE in self-isolation with your feline friend than induce an unnecessary and deeply distressing total aloneness.
JUST WASH YOUR HANDS ( especially BEFORE EATING ANYTHING)! And don't eat anything made from bats or pangolins.
Cats are (pretty definitely) not part of the problem.
For those who are worried about their cats and want more information about the risks to their pets and themselves from COVID-19 – there is an article that is well written and researched www.petnews.com.au see page 8
Nifty graphic from the World Health Organisation below: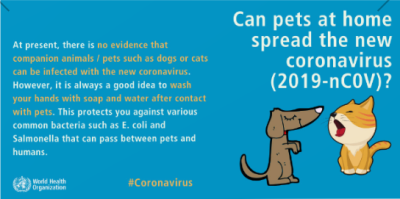 CURRENT STATE OF PLAY
Ferrets are very susceptible – they are the species being used to develop vaccines.
Cats CAN be infected (under experimental conditions) but are unlikely to get sick from the virus, nor transmit it to another cat or their human (there is a big difference between infection and transmission – relates to 'viral load' and 'patient susceptibility').
SUGGESTED READING BELOW:
www.scientificamerican.com/article/cats-can-get-coronavirus-study-suggests-but-pet-owners-need-not-panic/
CENTERS FOR DISEASE AND CONTROL HAS SOME INTERESTING QUESTIONS AND ANSWERS!
AND AS A HUGE BONUS!
The shelters around Sydney – including SAFErehomingwww.saferehoming.com.au and the RSPCA are reporting an INCREASED adoption rate for cats and dogs. Go Aussies Go – you know it makes sense to Save a Life and Save your Sanity too!