The Cat Palace team know cats…
We love them, we respect them – and thanks to the unrivalled expertise and feline knowledge of Dr Kim, we ensure that every cat that enters The Palace has a happy experience.
The business started as a cat clinic [known variously as East Chatswood Cat Clinic, Chatswood Cat Central, and Dr Kim Kendall Cat Vet] in 1994 and expanded over the years to facilitate boarding and grooming services. It was Dr Kim's particular affinity with cats and their owners that led the business in this direction.
When you really understand what make our feline friends tick, you simply feel compelled to offer the services you know they need in a way that sets them totally at ease and avoids any discomfort – and that's how we came to be.
The Chatswood Cat Palace is exclusively a cat-only environment, allowing your precious pet to feel comfortable and safe every step of the way, enabling a completely stress-free experience.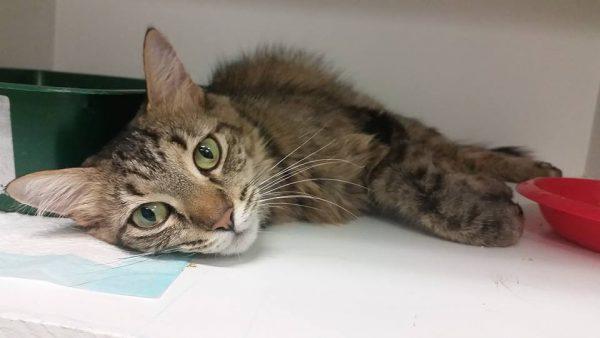 Dr. Kim Kendall BVSc MACVSc…
Dr. Kim Kendall is Sydney's best loved and one of the world's best known cat vets. She is a world expert in feline friendly care, one of only 2 cat-only vets in Sydney and the only cat vet in Australia qualified in cat behaviour. As well as providing exceptional medical, dental and behavioural services, Dr Kim oversees all grooming and boarding services with her expert eye and provides routine health checks. Dr Kim continues with the calm pursuit of excellence in Feline Medicine and Feline Health, both mental and physical! She is mindful that we humans have changed our cats' environment so much – from solo desert-dwelling rodent hunter to City Gods and Goddesses. Dr Kim also delivers regular 'cat only' seminars and webinars and has been presenting seminar papers at the prestigious Australian and New Zealand College of Veterinary Scientists on feline behaviour and medicine topics for a few years now, as well as resenting papers at the International Veterinary Behaviour Meetings.
Qualifications: BVSc (University of Sydney), MACVSc in Cat Medicine, Examiner in Cat Medicine , MACVSc in Animal Behaviour
My cat passed from old age but this amazing talented cat veterinarian looked after and extended Lilacs life absolutely, she is truly gifted.
Graham Donalson
Dr Kim is a wonderful vet and friend. I love the atmosphere that surrounds the place. Thanks for having me stay camped with the cats for the week when I studied at the Whitehouse, Surrey Hills. Regards to John. Still riding Sonny! as much as I can.
Sharon Geraghty
Outstanding cat physician and behavior expert
She went above and beyond her role to make sure our cat was responding to treatment
I'm so grateful for her ongoing support and care
EricLindy Sandelowsky
The Cat Palace is FANTASTIC! The cat seems to enjoy it, and due to the diligence and expertise of Dr. Kim, she saved my long haired cat who had a paralysis tick hidden in her fur. Dr. Kim has looked after and saved many of my cats lives – not just the nine, but the day to day survival. I would never take my cat anywhere else
Beverley Gledhill
We have found Dr Kim to be such a lovely, compassionate & caring vet. Our beautiful Siamese, Poh, has been unwell & had been to 3 vets who had misdiagnosed her & Dr Kim was able to tell us exactly what is going on. She has explained our options to us with patience & care & has taken time out to email & call us to check on Poh's progress. We trust her implicitly with Poh.
Melinda Ert
Great service. Pre grooming health check. Very impressed and so was our Tiffany. And only groomer we found that doesnt sedate! Thanks so much.
Tom Hayes
Dr Kim has been looking after my cats for over 10 years and I highly recommend her and her staff. Always caring and compassionate Dr Kim provides the best in veterinary care. I also board my cats there and when 1 of them became sick when I was overseas she advised me of the problem and kept me up to date with the treatment. Great service guys!
Gary Lancefield
On Saturday we took a long-haired, knotty, somewhat grubby and stressed out Isabelle to The Cat Palace for a much-needed hair-cut and, if she allowed it, oxy-shampoo. A few hours later, we picked up a calm, clean, soft and fluffy, much shorter-haired Isabelle, who looks gorgeous and is an all round delight. We were told she was scared, as it was her first time at nearly 2 and a half but we believe she generally must have enjoyed her experience because of how peaceful she's been since she came home. Well done Cat Palace Team and thank you!
Debbie Klas
I took my little Olivia, 9 months old, for her first grooming session last week. The staff was super friendly and professional, they even call me back after few days to check how Olivia was doing. Last but not least my cat looks fantastic and super happy! Thank you Cat Palace team. We will be back!
Angelique Briguglio
A fantastic place. Dr Kim is the most informed person on cat care on the planet. Whether it's medication, physical ailments, preventative care or behavioural management, Dr Kim is streets ahead of any other vet. The good doctor has looked after my moggie for all his 18 years, and he's still the most handsome puss on the North Shore.
Sharon Harper
My journey with Kim began 12 years ago, we purchased my beautiful fat-boy Oliver from her husband John. When we went for his first vet check, with Kim, we found that his brother was still for sale at her Chatswood practice. Needless to say, my kitty heart strings were pulled and we left with a second kitten who we named Twist. Oliver is a dream at the vet but Twist turns into psycho kitty. I would not dream of taking the boys anywhere else for their care. She has also assisted us to become a 3 cat household with good advice and gentle care for our very pretty but very naughty ragdoll Hazel. I was very concerned that Twist would be very unkind to her but no! He was the first to groom her and to accept her into the family. I would not have dared try it alone. So thank you Kim and John plus all your lovely staff.
Loisa Fuller
Our beautiful girl, Angel , a white (maybe) Turkish Angora who we got from a refuge at 15 months, had a bowel problem for years after she arrived at our place. The vet we went to, a good one, tried many foods, tests, etc but nothing changed. We live about 45 minutes drive from Dr Kim (and as Angel had a messy poo up to six times a day, driving there would have been stressful for all of us) so I contacted your surgery by phone and email. After a fairly simple regime over six weeks the problem was solved permanently and now we're so happy to see one solid poo every day. Dr Kim, you are amazing and a fabulous vet. I salute you and I, my partner and our lovely Angel are permanently grateful.
Angel Dunne
All staffs are kind, friendly and knowledgeable, they even recorded the process of showering my kitty to me so that we can learn the proper way to do it at home in the future. Great experience and will be back for sure
.
Joanne Ban
The staff are lovely and very helpful. Our kitty doesn't like being brushed on the belly so had to have some matting removed. It must have been a gentle job because she was still talking to us after we got home!
Tanya Mere
Dr Kim is known as the 'Cat Guru' around veterinary circles and it is certainly true! After 8 months of an undiagnosed condition by 3 vets I travelled to Sydney seeking the assistance of Dr Kim for my boy Tingle Tingle. Not only was Dr Kim able to diagnose a nasty food allergy, she was able to get him off daily medication previously prescribed for the rest of his life, to no ongoing issues through diet management. While he and his brother Mulla Mulla were with Dr Kim, (Mulla with Tingle for moral support) I received daily updates on Tingle's condition which was a great relief. I cannot speak more highly of Dr Kim – her skills, knowledge, sensitivity, communication and ongoing support. Both the boys (and I) say a big thank you Auntie (Dr) Kim!
Denise Allen
Dr Kim is my only trusted vet. My girl Soxxy has reached her 100th milestone and Angel almost 20 as well! I wish I had discovered her sooner! Well worth the trip over the bridge as I am not local to the area.
Brenzi MissB
In 1996, I adopted two beautiful cats, Josephine and Jemima, from the Chatswood Cat Palace. Over the next two decades, Dr Kim helped to keep them happy and healthy. I would certainly recommend this establishment for all things feline.
David Evans
Our cats always come home clean, trimmed and happy after a drop-in at the Cat Palace. Full marks and highly recommended
Mark Edward McCarthy
Dr Kim has been looking after all my cats for well over 20 years currently caring for my 2 Norwegian Forest Cats and their interesting challenges! Her knowledge and professionalism and care for her furry clients is unmatched. The Cat Palace always gives a follow up call 2-3 days after every service to see how the fur babies are and this care is much appreciated.
Megan Young
Kim's knowledge, experience and love of cats makes a winning combination. I've known her since she first opened in Chatswood back in the 90s and fully trust her with the care of my felines.
Linda Neville
Kim has been our vet of choice for 20+ yrs. We have 4 cats, soon to be 5, and have had various other cats live to ripe old ages under her care. Have always felt confident in her knowledge and caring for each one of them individually. I especially like that she provides care options rather than insisting one particular care plan, mindful of both the cat and the owner. One particular example of her care was when she came to our home to assist our once feisty and strong but then frail and elderly cat pass away in my daughters arms – always grateful.
Jeanette Ewing
The Chatswood Cat Palace always goes that extra mile to make sure your cats are well cared for whenever there is a problem. Plus any treatment that needs to be done is thoroughly explained so that the owner also knows what's going on. Once I was overseas and Kim rang me to update me on what was happening with Oscar. Such attention given during a difficult time was very appreciated My cats, Lucy and Coco, receive the best of care here and I would not take them anywhere else.
Senya MAtkovich
Im so fortunate to have the most compassionate and comprehensive service that any kitty (and their human) could want. My very senior boy with his myriad of health challenges is cared for and respected with love and professional nurturing. No issue deemed too small or silly (human queries) and support is always a phone call or an email away. Blessed to have Dr KIM as our feline physician!
Angel Griffonage
Kim has and still does look after all our fur babies, esp as she and Aunty Fiona are their godmothers. Kim has always had the welfare of all our cats at heart and I wouldn't go anywhere else (unless Kim is away). Fiona is the best cat washer and hairdresser.
Linda Allanson
I have been taking my cats to Dr Kim for 20 years. She is always knowledgeable, helpful, caring. I can recommend her most highly.
Aneva Borthwick
Dr Kim is amazing.The team have cared for 2 of my cats over many years and I truly couldn't be happier. My current baby needs to be shaved a couple of times a year and this is also carried out with great care and professionalism.
Marg Evans
I truly believe that cats get better health outcomes when they go to a cat specialist vet rather than a general vet practice – the Cat Palace has always provided my rascal cat Leo with great care & their great understanding of cat behaviour has been very helpful
Diana Cross
Dr Kim always takes wonderful care of my special girl, whether it's a regular checkup or a visit for something more specific. Can't recommend her highly enough!!
David Flynn
Dr Kim is really taking care of my 2 cats.
I saw her twice: once for their initial checkup and vaccinations, she did a very thorough examination of them. The second time, my cat lost her voice: Dr Kim looked after the problem and gave us very valuable advices to follow in order to not happen again.
Dr Kim has great knowledge of felines, I trust her expertise and experience fully to take care of my 2 babies.
Flo Rette
Dr Kim is amazing in her care, skill and knowledge. Would not take our Ralphie, mischievous Ragdoll, to anyone else. Ralphie has been attended to by Dr Kim and her staff for 8 years, and whether it is a small mishap (bless, he does get into trouble), bath and clip or prevention, Dr Kim is on top of it
Love her holistic approach, and how she chats with Ralphie (despite being grumpy about being there). She treats the whole kitty, not just the more obvious medical issues. And huge plus, Dr Kim specialises in cats only, so no other furry animals to contend with!
Isabelle Moss
Kim has been a wonderful vet and her groomer always keeps our 3 ragdolls looking immaculate and tidy. 2 out of 3 of my cats DO NOT like water (big surprise) however when they get washed and clipped, they are not sedated which was very important to me, knowing that cats generally do not do well under anesthetic. Kim has always had our cats best interests at heart, informing us that one of my cats has a hole (very tiny right now) in his heart, had she not caught that, it may have become a much bigger issue in the future.
Definitely recommended – they love all cats and do their best for each and everyone of them!
Serena Louise
Dr Kim is brilliant. I have taken my cat to other vets when out of the area and they don't hold a candle to her expertise and professionalism.
Gareth Q Barrett
Dr Kim and her team have been truly extraordinary in how they have cared for my two siamese cats over many years. Her wholistic approach and incredible knowledge has definitely made their senior years comfortable. We have always been treated with great respect from her and her staff and we are very confident when our girls are in her care.
Janine Akkad
Dr Kim is a cat whisperer. Our cat is nervous aggressive (has been embarrassingly so). She has been challenging for them to look after when she boards. However they have always welcomed her and taken great care. Recently Dr Kim diagnosed a food allergy and suddenly our cat is making new friends and enjoying her stay! Wow! Wouldn't take her anywhere else.
Rosemary Johnston
Sasha was so happy after getting the 'lamb' shave, and seems to be doing much better on the diet recommended. The cat palace took good care of him, and called us days later to make sure everything was going well.
Valerie Allerton
Dr Kim looked after my cat for all of his 18.5 years. I can't recommend her and the staff highly enough. Mac was a nervous moggy, but Dr Kim made him comfortable, kept his meds up to date, and was on top of every treatment he needed.
Dr Kim was immensely supportive when Mac passed in 2018. There really is no other vet with such an incredible knowledge of cats, their health and their behaviour.
Peter Maresch
Kim is an unbelievably intuitive, caring, professional and knowledgeable person. I have implicitly trusted her with the well-being and care of my three cats for 10 + years and would be tempted to go to her for my own medical treatment if I could!!
Jessica Siobhan
True professionals that take a great care of my cat. All in one place – vaccination, grooming, food, toys and so on.
Stas OZ
I always found Kim to be caring and concerned when I visited. We had two cats and she was so caring when the old ginger had to be euthanised. Not a happy visit but she made it easier.
Our other cat had many issues during her 16 years and every treatment at the Cat Palace was exemplary.
I always appreciated an honest and clear explanation of the issue and why any treatment was recommended.
Several times Kim was not present but the locum was great.
I regret I am between cats but The Cat Palace would always be my choice of vet.
Linda O'Cain
I love the cat palace. They take amazing care of my Persian and keep him looking beautiful and feeling great. One of the only groomers I have found in Sydney that can keep him trim without using anaesthetic. Thanks guys! Simon will be back again soon x
Claudine Quinlivan Hall
My cat Tyler loves the oxywash treatment & always looks gorgeous and fluffy afterwards! We drive over to north shore as Cat Palace is the only place that provides this service, so Tyler says thank you!
Judy Bacsy
We love Dr Kim! Her advice is always logical and straight-forward and she helped us when Domino was acting out by introducing us to our gorgeous boy Macallan and they have been firm friends and better behaved cats ever since. We will never doubt that two cats are better than one ever again!
Angela Hoang
Dr Kim did an excellent job of putting my poor cat's badly broken leg back together 10 years ago. He's just started to limp a bit on this leg now as a 12 year old so I emailed asking if she still had copies of his x-rays to show the vet we go to now in our new home. She emailed them over later that same day (which was a Sunday.) So I'm very impressed with her care and professionalism. Thanks Dr Kim!
Kathy Drayton
I booked in Penny for her first haircut, Kim and her team spoke to me in detail on what would be done. During Pennys short stay she was looked after well. I also received a followup call checking on Penny, which was lovely. It shows the team really care about our feline friends. I cant recommend the team at The Cat Palace highly enough.
Linda Kreutzfeldt
The Chatwood Cat Palace takes care of my very messy ragdoll cat. He comes home beautifully groomed, clean and relaxed. I'd now be hesitant to take him anywhere else as he's become accustomed to his regular spa treatment
Rachel Tyler Kotthoff
Dr Kim has been looking after cats for a long time and has astounding knowledge of cat behaviour – acceptable and non-acceptable types! The Cat Palace looked after my kitties when they needed somewhere to stay. Their grooming is exemplary.
Darren James Foster
I love the great job they do on my beautiful cat Tori, and without having to medicate her
Lisa Jardine
Lovely people. Extremely clean. Billie cat was very happy. We were emailed pictures of her regularly.
Robyn Hicks
For many years we have had our cats under the care of Kim and the Cat Palace. We simply wpuld not have the same faith in anyone else. Our cats were looked after with expertise and compassion. They even showed total trust in Kim, and her staff always looked after us so well. We would not choose anyone else to care for our fur bosses.
Megan McGlashan
The best vet ever… cannot recommend Dr Kim more highly
Carolyn Dean
Excellent service. My kitty has some health issues and the team managed to groom her while taking her health into account. Very happy with the end result.
Laura Powell
Dr Kim oozes experience and is decisive about diagnosis and treatment which gives me confidence. When I have emailed with questions regarding my cat because we live a fair way from the cat palace the responses have been quick, friendly and very helpful
Lindsay Cross
The cat palace is the only place to go if you have sick cats. The care is the great. Dr Kim has some kind of amazing connection with cats and her knowledge and skills are the best. We have been taking our cats here for over 12 years
Rosemary Gill
Kim was amazing for the last years of my kitty. She gave her magical shots that gave her a kitten like last few overs. She was kind and wonderful and while she is a vet – I never got any bill shock. Definitely recommended. My kitty has moved on long since then but I would absolutely go back if I find another furbaby come into my life!
Joel Hill
I doubt anyone knows as much about the care of cats as Dr Kim does. Friendly staff, excellent facility. Have been taking our Himalayan there for over 10 years and would not go anywhere else. I can't recommend more highly 10/10.
Lyn Franks
I bought my ragdoll, Tilly in to be groomed. They did a fantastic job and did everything to reduce Tilly's stress. It was a great touch that they reached out afterwards to ensure that Tilly was ok and there were no issues. Would definitely recommend.
Trish Halvorsen
Wonderful, friendly and professional people who really looked after my problem feline. Strongly recommend them!
Bernard Keane
From the minute you walk in with your furry babies….you walk into luxury. Dr Kim's staff is just there to make all feel special, and you know that your pets will be happy and feel special. It is very professional, and it is just the best you can do for your pets. Thanks to Dr Kim and staff,Sushi and Nigiri will be back purrrrrr
Gideon Sauer
The staff are amazing they really care about each and every visitor, both the furry one and the human one.
Stefanie Payne
This place is awesome!!!! Saved our sanity and our marriage…and no more Ragdoll cat fur everywhere… both cats go for their spa once a year and they shed so much less fur!!! The Cat Palace manages them both for their trim and bath without sedation … they come home clean and soft… happy cats! Happy hoomans!
Shane Kikui
Dr Kim is an extremely experienced and caring vet. She was always great with all of our cats and has a lot of experience with maine coons. We moved to Hobart nearly 2 years ago and found a good vet but still miss Dr Kim's vast experience and knowledge in all things cat.
Kate Kelly
Incredibly helpful people who understood our problems with our rescue cat and solved them. They also followed up to see how he was behaving which more than I expected. They really know cat behaviour and I would definitely recommend them.
Jennifer Ure
Cat Palace looked after mums beloved Persian & did an amazing job with her grooming. Personal & caring from start to finish. Thx Cat Palace!
Tracey Dixon
Our cat was cared for by Dr Kim and her wonderful staff for his entire life. The care was excellent and all family members were well cared for too! It was never a bother for Dr Kim and her staff to take Severus for boarding at short notice when needed for family reasons. It is a great pleasure to recommend The Cat Palace, Dr Kim, John and all the staff. Long may they continue!!
Sheryl Van Nunen
The Chatswood cat palace is the only place i trust to look after my Fur Baby Mr Bojangles!
He is always spoilt and nurtured when he gets groomed
The staff are so loving and gentle he has never had to be sedated and he comes home happy and relaxed and prances around feeling a million dollars after his day of pampering
Karen Gualdi
I usually have to pay hundreds of dollars to anaesthetise my cat to get her clipped. The Chatswood cat palace required no anaesthetic and my cat was so calm whilst getting groomed. Definitely the place to take your cat for grooming.
Carmine Epis
I absolutely love everything about this place! Five stars all round, even the trip from Parramatta doesn't spoil the service you and your furbaby will receive from a team of dedicated and clearly experts in cat grooming with specialist knowledge on how to source previous records on health history. Usually my fur baby doesn't talk to me for 3 days after the vet grooms him, instead he's stalking the House perimeter like a supermodel and can't stop looking at himself in the mirror! The best bit, he's jumping on the fence and climbing trees again, just need to cut back his treats. Thank you again, I would've paid double, see you in December!
Rebecca Huggett
Dr Kim and staff are very friendly. I couldn't the exact place at first, one of the staff is so nice willing to walk out and bring us in! Even though is our first time to bring our cats for grooming, but They are so good at follow up about the well-being of my cats.I would definitely highly recommend the cat palace to all of my friends!!!
PS Chen
Great job on our jumbo sized Ragdoll, Theodore Maximus. Will be back!
Caroline Wilson
Excellent service! Was very impressed by the service provided and the fantastic care for our cat
Anna Contos
As always the Cat Palace offers excellent and caring service.
We have been coming for many many years and Kim and the cat Palace staff have looked after all four of our cats.
Kim is an expert on anything feline and I wouldn't trust my cat's with anyone else.
The recent grooming my ragdolls had was fantastic and as always Fiona did a tremendous job on two long haired challenging cats.
I always recommend the Chatswood cat palace for anyone who has a purrrfect pet.
Melissa Roncolato
The Cat Palace team were wonderful, giving Lion Cuts to our grooming-averse Siberian's, as well as providing us with advice and information on ongoing care. Highly recommend!
Leila Turner
Marius loved his bath and trim. He smelled so good afterwards and seemed very happy when I collected him. Definitely doing this more often. Even furbabies need a bit of pampering.
Maria Russo
"3rd time for Bear having his hair trimmed at the Cat Palace. Great to be able to drop him off and know he will be well looked after. His hair cuts look great! We would highly recommend there services to anyone."
Ben Sainty
Very Friendly
You will find a friendly and engaging team of people in this palace. Importantly, they are friendly and warm to not just the humans but the cats too. I appreciated that they were happy to answer my many, often inane, questions without condescension; I suspect they knew I meant well but was in dire need of a basic grasp of cats. Thank you and we will return.
Sidney Koh