ABOUT THE CHATSWOOD CAT PALACE
The Cat Palace team know cats…
We love them, we respect them – and thanks to the unrivalled expertise and feline knowledge of Dr Kim, we ensure that every cat that enters The Palace has a happy experience.
The business started as a cat clinic [known variously as East Chatswood Cat Clinic, Chatswood Cat Central, and Dr Kim Kendall Cat Vet] in 1994 and expanded over the years to facilitate boarding and grooming services. It was Dr Kim's particular affinity with cats and their owners that led the business in this direction.
When you really understand what make our feline friends tick, you simply feel compelled to offer the services you know they need in a way that sets them totally at ease and avoids any discomfort – and that's how we came to be.
The Chatswood Cat Palace is exclusively a cat-only environment, allowing your precious pet to feel comfortable and safe every step of the way, enabling a completely stress-free experience.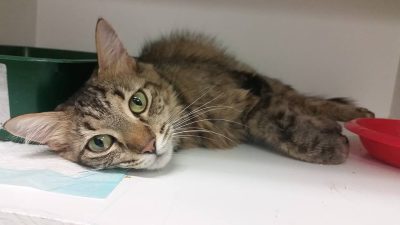 Dr. Kim Kendall BVSc MACVSc…
Dr. Kim Kendall is Sydney's best loved and one of the world's best known cat vets. She is a world expert in feline friendly care, one of only 2 cat-only vets in Sydney and the only cat vet in Australia qualified in cat behaviour. As well as providing exceptional medical, dental and behavioural services, Dr Kim oversees all grooming and boarding services with her expert eye and provides routine health checks. Dr Kim continues with the calm pursuit of excellence in Feline Medicine and Feline Health, both mental and physical! She is mindful that we humans have changed our cats' environment so much – from solo desert-dwelling rodent hunter to City Gods and Goddesses. Dr Kim also delivers regular 'cat only' seminars and webinars and has been presenting seminar papers at the prestigious Australian and New Zealand College of Veterinary Scientists on feline behaviour and medicine topics for a few years now, as well as resenting papers at the International Veterinary Behaviour Meetings.
Qualifications: BVSc (University of Sydney), MACVSc in Cat Medicine, Examiner in Cat Medicine , MACVSc in Animal Behaviour