THE PALACE PEOPLE ARE ONSITE AND THE CLINIC IS OPEN
Fridays 10 am – 7 pm – Consults, Surgery, Meds, Grooms available
Saturdays 9 am – 4 pm – Consults, Grooms, Meds & Diets available
Sundays 12 noon to 4 pm – Consults, Meds, Diets available
Mondays 10 am to 7 pm – Consults, Meds, Diets (Grooming occasionally)
Tuesdays, Wednesdays and Thursdays – CLOSED but email and phone messages will be answered within 24 hours.
CLOSED ALL PUBLIC HOLIDAYS – Plus these extended breaks
Christmas 2021 closed Tuesday 21st December to Thursday Jan 30th (inclusive).
Easter 'break' 2022 will be from Friday 15th April to Thursday 21st April (inclusive).
COVID RULES REMAIN
Clinic closed Tuesday to Thursday EVERY WEEK for the foreseeable future so PLEASE PLAN AHEAD to pick up medications especially
If you find your preferred grooming date is booked out – please phone 9417 3329 or email us at info@thecatpalace.com.au as our friendly staff can often find you a special time that suits you.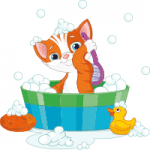 Unit 18 30-32 Barcoo Street Roseville NSW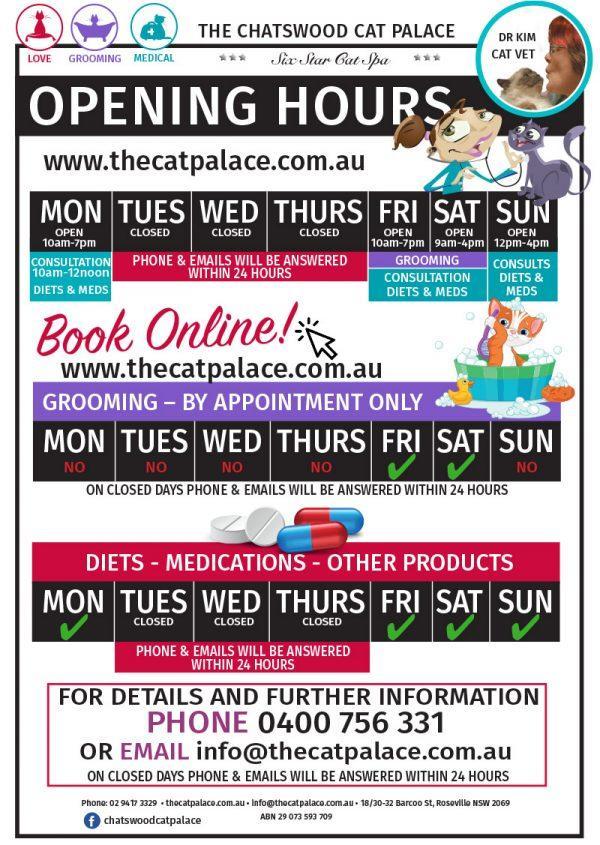 COME ON DOWN THE DRIVEWAY OF 30 -32 BARCOO STREET TO BUILDING 2, TURN RIGHT AND PARK IN THE LOADING ZONE (its allowed – if you have a cat or are picking something up from the Palace!)