Dear Dr Kendall and all at the Cat Palace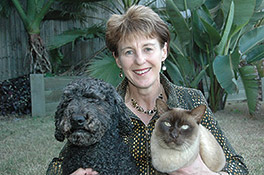 We are delighted to announce that you have helped to achieve an Australian first!
Following extensive negotiations with the Queensland Department of Agriculture and Fisheries (DAF), we now have a permit to desex and return unowned cats to their outside homes. This is the first time a state government has issued a permit like this.
We are grateful to DAF for providing a permit for this ground-breaking research in Australia. And to you, for helping to secure this wonderful outcome that is crucial to our community cat program research.
Essential cat census data being collected
With the easing of COVID19 restrictions, our Ipswich cat census is underway. Thanks to our community engagement work, 50 Ipswich residents in stray cat 'hot spots' are hosting wildlife cameras on their properties. These will enable us to identify the number of free-roaming cats – before and after desexing.
We hope to show that targeted desexing in cat hot spots reduces the number of stray cats. We will then work to secure government support for implementing community cat programs across Australia, rather than continuing with trap, adopt or kill. With the current approach, approximately 50% of all cats and kittens entering shelters and pounds across Australia are killed.
Community surveys re-commence
The Ipswich community surveys are underway again. These will determine which cat management approach residents prefer – trap, adopt or kill, or community cat programs – trap, adopt or return home. This information is important for governments. Preliminary data show residents do not want cats killed – the overwhelming majority want cats desexed and returned home.
Desexing to start in July
Once we have the baseline community survey and cat census data, we expect to start desexing in Ipswich in mid-July. The pilot suburb is Rosewood, with a population of 2,800 residents, and lots of stray cats. We aim to desex 200 cats between July and December – just over 60 cats/1000 residents. This desexing rate has been shown overseas to reduce the number of kittens born to die in the next kitten season.
Project continuing despite unsuccessful ARC grant application
Although we didn't receive an ARC grant, the ongoing support of progressive vets like yourself, and our industry partners, is enabling this crucial research to proceed, on a smaller scale.
Thank you!
We know that neither you nor the community wants cats, dogs and people to continue paying the price for our ineffective, and costly, use of trap, adopt or kill.
We know that Australian community cat programs will save so many lives, and help protect those who care for stray cats and kittens. And they are good for wildlife too, because they decrease the number of stray cats.
And we are so grateful for your support! With it, we aim to prove that these programs work just as well in Australia as they do overseas.
All the best,
Jacquie Emeritus Professor Jacquie Rand, BVSc (Melb), DVSc (Guelph), MANZCVS
Diplomate, American College of Veterinary Internal Medicine
Executive Director & Chief Scientist
Australian Pet Welfare Foundation
---
If you have any questions regarding Australian Pet Welfare Foundation, please contact us using the following methods.
Email: info@petwelfare.org.au
Mobile: 0421 552 582
General Mail:
Australian Pet Welfare Foundation
PO Box 5042 Kenmore East – 4069
DONATE HERE –