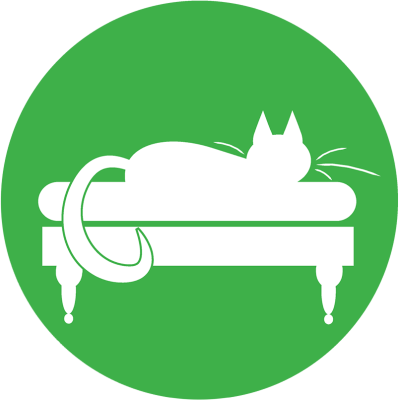 All Cat Boarding Is Not Created Equal…
Here at The Cat Palace, we're well aware of the stresses both owner and cat can face when the cat is put into an unfamiliar environment with unfamiliar faces all around. As Sydney's premier cat boarding facility, everything we do goes into making sure any discomfort is kept to an absolute minimum and, where possible, eliminated altogether.
The process starts with our Kitty Cabanas, which have been custom designed and built with the cats in mind. Rather than maximise numbers or profits, The Palace is designed to Maximise Kitty Comfort – mentally and physically' and we only board as many cats as we can keep happy.
Vertical space is as important to a cat as horizontal space, if not more so. Also vital is the separation of food, bed and toilet. We wouldn't do all 3 in the same small area, so we don't expect our guests to either. We're enormously proud of the fact that many of our cat boarding residents are familiar faces who have made many trips to see us while their people pop off somewhere for a few days. We reckon this means we're doing something right!
We settle any new residents quickly and calmly, making sure that they know we're friend and not foe. We keep a close eye on feeding and toilet habits, as these are often two earlier indicators of stress in cats, and we make sure the boarding is all about the cats, not the cash!
How We Meet All Your Cat Boarding Needs
Too often we see cat boarding facilities that, whilst functional, are not what we'd want to see if we were boarding our own cats. So we can provide the best possible environment in what can be a stressful time for any cat, here at the Cat Palace we designed and built our Kitty Cabanas to very exacting specifications.
We're here to provide all your Sydney Cat Boarding needs.
At The Cat Palace, you won't find any Venice Villas or Maldives Mansions full of stuff your cat doesn't need but which you will pay for. What you will find is our own, self-designed cabanas which are the result of years of knowledge and experience, designed and built by people who know what your cat actually does need.
All have upstairs and downstairs areas, and all are cleaned and disinfected with scrupulous care before and after every check in or checkout.
We will only board as many cats as we can keep happy, so you can be assured of no overcroweding or unsuitable conditions for your cat.
A first trip to boarding can be stressful for cats, until they realise that they're in good hands and being well looked after. We take extra care to make sure that all our residents, both old and new, adapt as quickly as possible to their change in environment.
Our boarding setup and methods have been approved by the RSPCA and the Animal Welfare League, and our Café has been given the University of Sydney Ethics Approval for the containment and management of cats, a rare achievement for any specialist environment.
Our Deluxe boarding comes in two forms.
THE CAT PALACE
The cabanas which give us our name are bigger than our other standard and double cabanas, and come complete with a view of the outside. Although a room with a view might not seem important, think about how long your cat just sits looking out of the windows at home. To us mere humans, it looks like they're just staring into space but, to a cat, the outside world is constantly alive with activity and interesting things to see.The trees outside the windows of the Cat Palace have a whole hopst of things going on in them all day long, and cats just love to be able to watch the world go by.
THE BIG ROOM
The Big Room boarding is designed for those cats who like a bit of space, or for a group of cats who are already living together and getting along quite happily. Usually, cats who will sleep together within touching distance will be well suited to spending time together in The Big Room, and having familiar company with them is sure to make the experience as calm and relaxed as possible.
Your feline pals will have unrestricted access to climbing and other play activities, plus a whole host of comfy places to sleep or just laze about! You are, of course, free to bring any favourite toys or sleeping beds etc. to make The Big Room a genuine extension of the home environment that they are already so familiar with.
All the furniture and articles within the big room are, like all our boarding rooms and cabanas, thoroughly cleaned and sterilised between visits.
NO VIEW
Despite being called "Standard", our cabanas are anything but when it comes to the happiness and well being of your cat during its stay at the Cat Palace.
Custom designed and built, and scrupulously cleaned between visitors, it's no wonder our feline boarders love coming to see us!